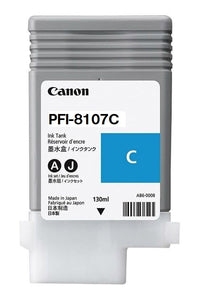 Designed for optimum performance with your Canon large format printer, this genuine PFI-8107C Cyan ink cartridge will deliver the widest colour gamut possible, whilst providing consistent accuracy and exceptional reliability.
Featuring Canon's innovative LUCIA ink formulation, this Canon PFI-8107C Cyan ink cartridge is specially formulated to provide smooth colour transitions and reduce image graininess.
Canon ink cartridges are designed for precise colour graphics that will bring your images to life. PFI-8107C Cyan Black ink cartridges will enable you to print images with outstanding clarity, richness and accuracy.
Canon PFI-8107C Cyan Ink Cartridge Details:
Manufacturer: Canon
Part Number: 6711B003AA (2957V228)
Colour: Cyan
Ink Type: Dye Ink
Capacity: 130ml
Code: PFI-8107C
🔴 Compatible Printer Models - iPF671, iPF671M, iPF771, iPF771M, iPF681, iPF781, iPF786.